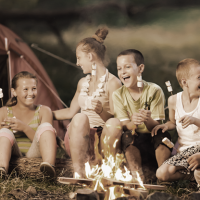 Marjorie Ingall: "Camp Puts Jewish Values to the Test"
Camp Ramah in New England alumna Marjorie Ingall has written a moving piece on the lasting values of the Jewish summer camp experience featured in Tablet Magazine.
Camp makes my kids feel great about being Jewish. (Even folks who loathed going to Jewish camp agree that Jewish camp has this effect.) Me, I went to Jewish Day School, so I didn't learn much new Hebrew or Jewish history at camp. But for Josie and Maxie (age 9) who go to public school, camp has been where they really learned tefilot and learned to pray with kavannah—passion and intention. They both love to sing; today I watch them belting out Adon Olam and feel as if I'm time-traveling to Camp Ramah in the 1980s. Camp, in short, is a kid-centered, kid-powered, outdoorsy dunk in the agam (lake) of positive Jewish identification.
You can read Marjorie's full article here.