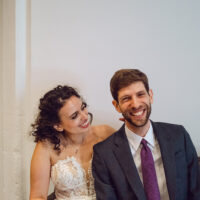 Eliana Luxemburg-Peck & Marcus Luxemburg-Peck
Eliana Peck and Marcus Luxemburg met in June 2011, on the first day of Ramah Seminar's pre-Israel trip to Poland. Both of us grew up at Ramah; Eliana at Nyack (1999-2003) and Poconos (2004-2010), and Marcus at New England (2005-2010).
In Poland, we connected quickly as we wrestled with the difficult things we were seeing, and decompressed over card games played in crowded bus aisles and kosher "cup-o-noodles." As Seminar brought us all over Israel, our relationship blossomed into something more. When the summer ended, we decided to give it a shot and continue dating when we returned home.
For the next seven years, we dated long-distance between Connecticut and Philadelphia, Philadelphia and Washington D.C., and New York and Nashville, relying on several trips per year and nightly Skype calls (the original Zoom). Our primary affiliations remaining unchanged, we both returned to our own camps as tzevet members, Eliana at Poconos (2012-13) and Marcus at New England (2012-15). In Fall 2018, we moved in together in New York City, and on July 10, 2022, we married in Philadelphia surrounded by friends and family (many of them Ramahniks). Today, Eliana is a doctoral candidate in philosophy at CUNY Graduate Center, and teaches undergraduate courses at Baruch College; Marcus is also a devoted educator and teaches high school chemistry at Brooklyn Preparatory High School.