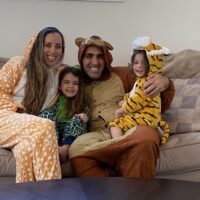 Shachar Liran-Hanan & Elroi Hanan
Shachar and Elroi first met on the Shfaim Shlichim training seminar while Elroi was Shachar's counselor. Elroi was in the middle of Shvil Israel (Israel National Trail) and took a few days off to join the seminar for his second summer on Ramah Canada's sport staff. Shachar got released from the army that morning and joined the seminar late due to that.
After the seminar Elroi went back to the trail and a few days later, on Yom Haatzmaut he traveled past Shachar's town in northern Israel and joined the local celebrations. A text that night made things official.
This bond between the two of them was not obvious. Elroi grew up in a religious Moshav (Modern Orthodox) and Shachar is secular and comes from an atheist family. For them, Ramah was their common ground and where they both got a better understanding of their Jewish identity and their connection to this much greater global Jewish community.
After that summer, Shachar went on a long Shlichut in Durban South Africa and they kept up a long-distance relationship. They saw each other during Elroi's semester breaks when he joined her.
To make up for the time they spent apart, they both went to work on Ramah Seminar during the summer of 2011.
Shachar and Elroi got married on June 6th, 2013 in Bet Govrin Caves. They have 2 daughters, Kerem and Lotem, and a dog named Mensch. In the summer of 2021 they all went on another Shlichut, this time as a family, in Westchester, New York.