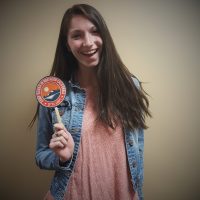 Columbia/Barnard Hillel Ramah Shabbat Dinner 2016
On April 8th, Columbia and Barnard Ramah alumni had an exciting opportunity to create a camp environment while still on campus and had 30 Ramahniks attend a special Ramah Shabbat dinner. Both chanichim, madrichim, and students who have been at camp in both roles attended. We were lucky enough to have representatives from all of the overnight Ramah camps as well as some of the day camps! We shared stories, ate, sang, and enjoyed the Ramah environment despite having gone to a variety of different camps. While we're all busy counting down to the beginning of camp this kayitz, it was great to find something a bit closer to count down to.
One of the most meaningful parts of the dinner were the words of Torah shared with us by members of our own community connecting back to the parasha, Tazria, but more importantly to camp:
"It is vital that we all remember this in camp, when we are all caught up in 'camp­-mode,' when days are like weeks, when we worry about how everything will impact our campers' experiences, and when every little thing seems so big. We all just need to remember to put things in perspective. This is not to say that nothing in camp is important, in fact I believe that camp has had the most instrumental impact for me when it comes to establishing my own Jewish identity and my passion for Judaism. This, I believe is because of the isolating power of Camp […] Because we are all in this environment where nothing exists except what is in camp, we are able to focus on Judaism in a positive way, and we are able to teach others to love being Jewish, because that is what camp is, and camp is what matters." — Ella Cooperman, Berkshires
"Tzaraat appears and lingers in many forms, both visible and unseen, and yet somehow the words in the Torah responded just as harshly. Isolation. Separation. Difference. Other. Tzaraat of the skin, the mind, and the heart all have the same ability to deem you "unclean" in Tanakh, or perhaps "uncool" in the acne-infested skin of a preteen. I did not go unscathed; tzaraat visited me relentlessly in its variety of forms. However, unlike the cases of Miriam, the menstrual woman, or gossiper in which their differences led them outside the camp, my tzaraat–thank God–led me to a camp. In the heart of the Southeast, there was a camp, a safe haven in the grassy green acres of northern Georgia, where my whole self–tzaraat included–was embraced unconditionally by a sea of Jewish teens that had perhaps also needed a place like this at some point in their lives. For a month every summer we were isolated from the rest of the world, which perhaps could not have been a healthier solution for me. Our counselors, or Kohanim, were able to cross the boundaries of this sacred space, seeing us as vital members of this Jewish community while also helping us overcome the stigmas and difficulties that come with our baggage. I spent five summers at this camp, and beyond all the skills and values I learned, I was always reintroduced back to my community each year after with the constant reminder that like the Tzaraat I carried, my Judaism is far more than skin deep." — Emily Goldberg, Darom
All in all, Ramah Shabbat was the perfect way to step away, for a moment, from the stress of midterms and allow ourselves to live in a camp-inspired moment.
Ilana Sandberg is a junior in the Double Degree Program between Barnard College and The Jewish Theological Seminary. She is the musical director of Pizmon, the Jewish a cappella group of Barnard, Columbia, and JTS. Ilana serves as a Ramah Service Corps fellow and brings the magic of the Ramah experience to communities around the Upper West Side of NYC. After three summers as a counselor at Ramah Nyack, Ilana is thrilled to be a Rosh Edah this upcoming summer at the brand new Camp Ramah in Northern California!