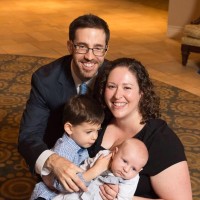 Alex Freedman & Laura Seidenberg Freedman
Laura and Alex met as counselors at Ramah Wisconsin in Summer 2004. Alex is two years older than Laura, and while they both attended Ramah Wisconsin as campers, they only met once they were on staff together.
At camp, a friend pointed out that Alex and Laura would both be attending Washington University in St. Louis in the fall. That summer they basically said, "Hi, see you in St. Louis," but while in college the next year they became friends and eventually started dating.
Alex and Laura spent their summers at camp so they could continue to see each other during the summer as well as during the year.