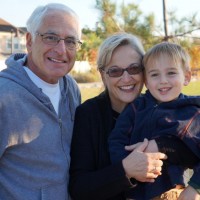 Allan Rosenthal & Wendy Wish Rosenthal
I began attending Ramah in 1961. I was a camper for 4 years, and I have been on staff for 36 years. My husband, Allan, and I met and dated for around a week when I was 16 and he was 19. We then attended different colleges and re-met when I was a rosh edah and he came to visit camp the summer of 1971.
After our three children were born, I went back to camp on staff from 1983 to the present. Our children were raised at Ramah California, and they in turn were on Ramah's staff. Our oldest son, Jeremy, met his wife, Gwen Shelden, in 1997 when they were both rosh edot.
Our second son, Adam, met his wife, Jami Rosenthal Datnow, when they were Nitzanim campers in 1988. They attended camp together in every edah for the next nine years as campers and on staff. They became serious in 1997 when they both were counselors in Ramah's special needs edah.
Our daughter, Lindsey, was a camper and a staff member as well. She lives in New York City, and would love to re-meet a fellow Ramahnik from Ramah California.