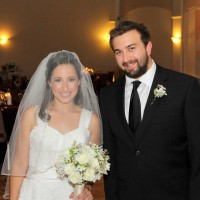 Ezra Balser & Laura Elkayam
Laura and I were in Nivonim 2001 and we both decided to go on Seminar during 2002.  We worked on staff together at Wisconsin from 2003-2006.  I was living in Canada at the time, and our summers at Ramah allowed us the time and space to be together when we could not during the rest of the year.
After serving as a Rosh Edah in 2009, I took my talents to Ramah New England and worked there for four summers. In 2012, we had our Auf Ruf at New England while I was Rosh Nivonim. We were married shortly after that summer.  Friends from Wisconsin and Palmer came to celebrate with us.  We could not have imagined it any other way.