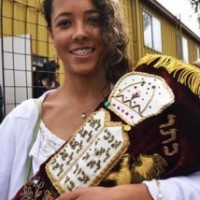 Camp Ramah in California's Alumna Aviva Davis has written a piece on some lessons she learned while attending Jewish summer camp that was featured on MyJewishLearning.
Judaism has been a part of my life since I was born. My mother snuck Shabbat candles into the hospital in preparation for my birth and I was born on Shabbos afternoon surrounded by my family and future friends, all welcoming Shabbat and my existence. As a child, I was raised primarily by my Jewish, African-American mother, Denise. I am honored to say that she converted to this amazing religion and that I am 100% Jewish.
You can read Aviva's full post on MyJewishLearning here.