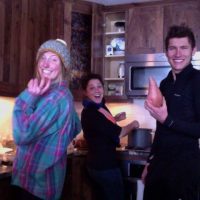 The Backcountry Bayit is a communal programming space dedicated to providing a home in the mountains for the rapidly growing Jewish communities of Denver and Boulder. Through active outreach, engaging programming, and an abundance of enthusiasm, Gabi Wasserman, Danit Cohen, and Robyn Goldstein have set up a home base in the greater Breckenridge area to enrich Jewish life for visitors and residents of the Colorado Rockies.
It's been an eventful first month here at the Backcountry Bayit (BCB), and we finally had some time to sit back and soak it all in!
Where should we start?
After college, we made plans to live in Colorado ski country. The opportunity to live up in the mountains was one we couldn't throw away. (The three of us fell in love with Colorado during our time at Ramah in the Rockies.) But how would we find a Jewish community like the one we had at camp?  Simple; we'd just start one ourselves.
Okay, it wasn't so simple. It turns out that starting a Jewish communal home in Frisco, Colorado was a lot harder than it initially seemed!  After many fruitless months, we were close to giving up. Then, one day, Rabbi Eliav Bock, Director of Ramah in the Rockies, one of our partners, told us the amazing news!  We finally had our beautiful mountain bayit, right in the heart of Summit County.
The next step was to get the word out!  After securing a home for our mountain community, we promoted our new bayit at every possible moment "Come join us each week for Shabbat!" "Escape city life for a weekend in the mountains!" and our personal favorite, "Elevate your Shabbat with a weekend at 10,000 ft!" We were getting likes on our Facebook page, and messages and emails asking to stay over.
First Shabbat Dinner!
On our first Shabbat, we had 12 people sitting around the table. Our guests came from all over Colorado, including Denver and Boulder (here to ski for the weekend), friends from the area, and strangers who needed a place for Shabbat. We enjoyed a festive meal together and got to know each other. Our Rabbi in Residence, Abi Weber, led a discussion on the parasha. That Shabbat meal was the start of a true kehila.
One Shabbat is an Event; Two begins Community.
After our first Shabbat, we continued our efforts to open our doors to anyone in search of a Jewish community. The week after our first Shabbat, one of Danit's co-workers at ski school, Eli, reached out to see if there was more room for the next Shabbat dinner. Eli had left his tefillin on the ski gondola, an event that underscored how much he missed a Jewish community.  
The BCB provided Eli not only with an experience to fill the void he'd felt not being able to lay teflillin that morning, but also his first communal Shabbat dinner since moving out to Frisco 5 months ago!
Building Connections
As Reshet Ramah coordinators, we host and help run events open to Ramahniks and other Jews in the area. At the end of January, the Moishe House in Boulder (MoHoBo) asked if we'd help them with an event at Arapahoe Basin, a local ski mountain. The residents of the MoHoBo are good friends of ours, (thanks to Ramah connections), and the event was a huge success! Jews from all over Colorado joined us for a day of BBQ and Slopes.
Another major partner has been OneTable, an organization dedicated to providing communal Shabbat dinners around the U.S. They have helped us put together our BCB Shabbat dinners. Last weekend we joined them in Vail, where close to 50 people enjoyed a fabulous Shabbat in the mountains!
Next weekend we're leading a group on a moonlit hike, up to the peak of Arapahoe Basin, where we'll have Shabbat dinner under the stars.
Looking Forward
We are hoping that this wonderful project can continue for years to come, so keep an eye out for more events in the future, and join us for Shabbat every week! Hope to see ya'll here!
-The BCB Crew: Gabi Wasserman, Robyn Goldstein and Danit Cohen