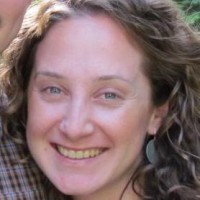 Diane Meskin is a California Ramahnik who made aliyah in 2008. This is what she wrote to Ramah about her decision to make aliyah:
Her motivations to make aliyah included, "a combination of my Zionist upbringing – at home and at Camp – and a personal connection with Israel that grew over the years. Israel interested me first as an idea and then grew to become meaningful and interesting personally and religiously and professionally."
The emphasis on Israel at Camp played a great role in the idea of aliyah being planted in my mind as something that was regarded as an amazing thing, and also a tangible reality. Also meeting the shlichim over the years and becoming close with them made the transition less and less foreign.

The friends I made at Ramah were my first and closest friends when I moved to Israel, it was a major part of making me feel at home and welcome.
Since making aliyah, this is what Diane has been up to:
I have worked at two places and also learned and studied in a few places. I competed my MA at Hebrew U in Political Communication and work at the Menachem Begin Heritage Center. I also learn gemara in a women's program at Beit Morasha part time.