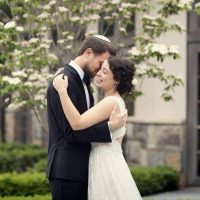 In Love with Camp and Each Other
Recently wed Ramah couples share their stories
by Renee Ghert-Zand
Even in the era of mobile dating apps, many people are finding love an old-fashioned way — they're meeting their beshert at camp. There's a long tradition of couples meeting at Ramah, and this past summer several Ramah weddings took place, including for one couple, a ceremony at Camp Ramah in California, where they first started dating.
"Camp is such a great way to meet people. It's a platform to show your true colors," said Adiel Schmidt, who met her new husband Matthew Weinreich at Camp Ramah in Nyack, NY in the summer of 2012.
Adiel and Matthew, both 24, married at Temple Emanu-El of Closter, NJ on July 29, 2018. Native New Yorkers, they now live together on the Upper East Side. Adiel works in the accounting department at Equinox, and Matthew, a mechanical engineer, works at a consulting firm doing building design.
Deb and Gabe Pollack-Cohen married on May 28, also at Temple Emanu-El of Closter. They are now in Israel for a year as part of Gabe's JTS rabbinical studies. Deb, 24, who worked as student life administrator at Columbia-Barnard Hillel, is starting her Masters degree in Jewish Studies at the Davidson School online.
The couple met at Camp Ramah in the Berkshires in 2015 and has returned there together every summer since.
"Thank God we had camp," Gabe said.
Deb was only 21 when she met her husband-to-be, but she quickly knew that he was the one for her.
"Gabe is all heart. He's kind, witty, sensitive, sweet, and has a good sense of humor. I could see how much he loved working with kids. We ended up spending every free minute together. He was easy to talk to and a constant presence for me. It was very easy to fall in love with Gabe," Deb said.
The feeling was mutual. "I just felt better when Deb was around. The stress fell away and I was happier. She brought out my best self," Gabe, 27, said.
Rabbi Lauren Henderson, director of family learning and spirituality at Mishkan Chicago, felt the same way when she met Joel Dworkin at Camp Ramah in Rockies in 2015. Lauren and Joel married this past summer.
"I honestly believe that camp is the reason why we fell in love — it was the container that made the foundation of our relationship possible. Joel and I were the best versions of ourselves at camp, personally and professionally, and we got to watch each other thrive in doing the kind of work we most enjoyed, me as a rabbi and him as a wilderness professional," Lauren said.
Many couples meet for the first time at Ramah. However, Talia Spitzer and Zach Sharfman were already acquainted before starting to date at Camp Ramah in California in 2008. The two had grown up on the same street in Los Angeles, but it was the camp environment that allowed them to really get to know one another.
"He was a fun, wild counselor who was full of energy. I was also attracted to him because he was very knowledgeable about Judaism, which was important to me," Talia said of Zach.
"Camp is a huge piece of our life. You want to marry someone who understands that ruach, that Jewish connection. We were so lucky that we found each other at camp, especially when so much of life around us is secular," Talia added.
Zach, 28, and Talia, 27, now live in New York, where Zach is completing a residency in orthopedic surgery at Albert Einstein College of Medicine – Montefiore Medical Center and Talia works in human resources at the New York office of an LA-based investment management firm.
The Ramah experience meant so much to Talia and Zach that they decided to hold their wedding at the camp in Ojai, CA, this past June 10. The huppah took place in the orange grove, and the party was held on the basketball court.
Tali Cohen Carrus and Scott Cohen Carrus, who met in 2014 when they were both on Tikvah staff at Ramah New England, also chose to be married at camp this summer. Their ceremony overlooked the lake, and their reception was held in the newly built chadar ochel, where they celebrated with many Ramah friends.
A dating app brought Ben Goldberg and Daniel Olson, both 28, to one another's attention, but it was their shared Ramah experience that helped keep them together. The couple married on June 3, 2018 at Adath Israel in Merion Station, PA in a ceremony officiated by Camp Ramah in the Poconos executive director Rabbi Joel Seltzer.
Ben and Daniel initially met only in passing at Camp Ramah in Wisconsin in 2010. "I was so laser-focused on my job with the Tikvah program, that I wasn't paying attention to much else," Daniel said. Pointing to some difficulties they had as young gay men, he added, "Ramah was a safe place to develop who we were as people and as Jews, and to live in community, but it led up to the closet door — and not beyond."
In 2013, the two met again at a JTS Sukkot dinner in New York. They connected over their Ramah experiences, but it went no further. It was only two years later, when they matched on the OKCupid dating app, that they began dating.
Daniel, who is a doctoral candidate in education and Jewish studies at NYU, believes a relationship that starts online is not qualitatively worse than one that starts in person at camp.
"What matters are the shared values the two people have. Camp was a common context. We weren't starting from scratch," said Ben, who was recently ordained by JTS and is the new rabbi at Congregation Kneses Tifereth Israel in Port Chester, NY.
Despite the limitations they encountered, both Ben and Daniel feel that Ramah was a safe space to grow and learn as young Jews and they are pleased that things are significantly different for LGBTQ campers and staff at camp today. Ben added, "Our Ramah experiences have a lot to do with what we want in our life professionally, and also in terms of home and family."
All of the Ramah weddings this past summer were full of joy and featured plenty of ruach Ramah. In attendance at each of the weddings were many Ramah alumni and staff members. Talia even reported that well over two-thirds of the guests at her and Zach's wedding were from the Ramah community.
"Our wedding was very spirited with a lot of dancing…and of course a lot of Ramah shtick," Adiel said about her and Matt's big day.
Did you meet your spouse at Ramah or through a Ramah connection? Tell us your story!