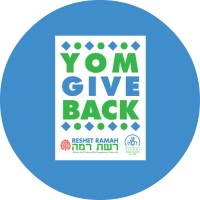 Ramahniks Participate in First Ever "Yom Give Back"
On Sunday, May 4, over 65 Ramahniks representing almost all Ramah camps joined together for an amazing day of community service called "Yom Give Back." A partnership between Camp Ramah in the Berkshires and Reshet Ramah, "Yom Give Back" featured five different volunteer sites around New York City, including such locations as the Ansche Chesed Men's Shelter, the Jewish Home for the Aged, and Dorot. Volunteer Chair Jenna Statfeld Harris summed up the experience:
When we first started thinking about gathering Ramah alumni to do community service work together, it was still hard to imagine exactly what it would look like. We knew that Ramah alumni were looking for ways to volunteer in the New York area, and we wanted to provide them opportunities to do so in a way that was meaningful to them. Thanks to the incredible Ramah Reaches Out Committee; our very first Yom Give Back could not have been more successful. The whole day was simply inspiring. We had volunteers of all ages, from various Ramahs, from all over New York and New Jersey. We collected hundreds of toiletries for a local homeless shelter. We created beautiful art for those in need. We visited the elderly in their homes. We celebrated Yom Haatzmaut in a senior home. While I am always proud to be a Ramahnik, Yom Give Back made me feel prouder than ever.