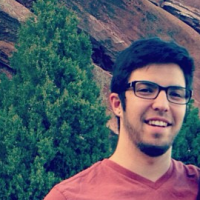 Daniel Gavens' Reflection
The Conservative Movement has always played an important role in my life, the center of which was USY and Ramah. I grew up at Camp Ramah in California where I was a camper for five years before I went on Seminar in 2004.  Yet once I began college, I struggled to find a way to continue to connect to Judaism in a way that was meaningful to me.  After many challenging years, it was finally in 2011 that I found the missing piece to my puzzle: Ramah Outdoor Adventure. In my three summers spent at Ramah Outdoor Adventure as a counselor, mountain biking instructor, trip leader, EMT, and Rosh Kef, I was directed on a path I never would have expected.
Ever since my first summer at Ramah Outdoor Adventure, I have begun to explore many new passions and try out new experiences. After my first summer at ROA, I became interested in more outdoor activities, mainly mountain biking and rock climbing, activities I never pursued before. Ramah also helped me to discover another passion that would direct me on another road in my adult life: working with youth. When I moved to Denver, becoming a Jewish educator was a natural fit, and I credit Ramah with giving me the tools to find such success in my career path as the Assistant Youth Director at Hebrew Educational Alliance.
Lastly, I was able to find a way to fit Judaism back into my life, which is probably the most important thing that Ramah has given me.  While my summers as a camper in Ramah California helped develop who I was as a child, my time with Ramah Outdoor Adventure and the greater Ramah community have begun to shape my future as an adult.