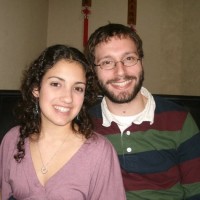 Dani Saks & Nomi Ehrlich Saks
Dani and Nomi met in the summer of 2009 at ulpan during staff week at Camp Ramah in the Poconos. Nomi liked the way that Dani spoke Hebrew and Dani thought Nomi was cute. Little did Dani know, but Nomi was already familiar with the Saks family. She was already friends with Dani's sisters Reena and Rachel from working at camp the previous two years. An attraction was instantly formed. Nomi asked Dani to sit with her on shmira the first Shabbas that campers were at camp.
What started as a summer of love blossomed into a relationship built on many megabus trips between New York and D.C. Unfortunately for the new couple, Dani was finishing his last year at Columbia and JTS while Nomi attended the University of Maryland in College Park. So, every 3 weeks like clock work, Nomi or Dani boarded the double decker Megabus to pay a visit to his or her beau. Luckily Skype, the best innovation for long distance relationships since the phone, enabled Dani and Nomi to strengthen their bond in between bus rides.
The second semester brought even more challenges to Dani and Nomi. Nomi set off to Haifa, Israel to spend the semester abroad making Skype even more essential to their relationship.
Fortunately, after Dani graduated, he moved to Maryland, near Nomi. Dani and Nomi were finally able to spend time, especially Shabbat, enjoying each other's company without the need of a WiFi connection. Dani and Nomi went back to camp in the summer of 2011 and Dani proposed that December! The rest as they say is history.