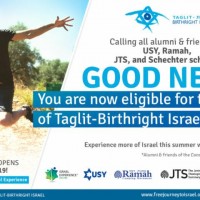 Birthright Eligibility Change
If you haven't already heard, Birthright recently announced a change in eligibility that allows previous participants of group trips to get a free 10-day trip to Israel.
USY and Ramah have partnered to create Shutafim, a series of new Conservative-content Birthright trips for alumni from Conservative youth programs including USY, Ramah, Schechter schools and JTS.
The eligibility change allows alumni of USY Pilgrimage, Ramah Seminar and Shechter trips (shorter than 3 months) to attend a Birthright program. Shutafim will enroll participants for trips beginning this May, run in partnership with Birthright Israel-Taglit and The Israel Experience.
For more information and to register for the summer, click here.