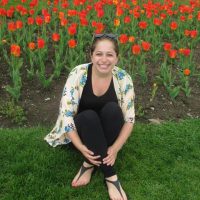 Once a Friend, Always a Friend
Sarah Chorne | Friend of Ramah
Sarah Chorne graduated from Binghamton University in May 2015 with a major in Human Development and a minor in Education. Since graduation, she has been working at UJA-Federation of New York. While her relationship with Ramah is indirect, it has been made strong by being a way to connect with friends and the Jewish community at large.
I have never attended a Ramah camp. As a kid, I bounced around between day camps and sleepaway camp, some Jewish and some not. I also did not understand the importance of Judaism in my life. I participated in and enjoyed High Holiday dinners and seders with my family. I went to Hebrew School and had a Bat Mitzvah, and therefore could read any Hebrew word thrown my way, but could not tell you what it meant. I was involved in USY in a local sense, but never developed a sustainable connection to the USY experience, like the people around me seemed to have.
While I look back and perhaps wish there was more Judaism in my upbringing, my experiences at the time did not seem all that different from those of the people around me. It was common to complain about going to services on the High Holidays and wishing more than anything that the seder would end soon so that we could get to the part of the evening with the food.
I went to college, knowing that I wanted the option of a Jewish community, but never expecting it to become such an integral part of my experience. Through the Jewish community at Binghamton, I established irreplaceable friendships, created sustainable relationships, gained work experience that would later influence my decision to go into the Jewish nonprofit world, and developed a Jewish identity that I was not only comfortable with, but made me want to participate.
In this Jewish community that I became a part of, I met a large group of Jewish students, all in and around my age, that seemed to have had a completely different Jewish upbringing than the one I had had. They had their own connections to Judaism and understood the reasons behind the customs they were performing and therefore found meaning and comfort in them. They were able to speak about aspects of Judaism I had never even heard of before with such ease and even excitement.
I realize now that this was the piece of the puzzle that I was missing growing up. I had never been around a large group of my peers who felt such a connection to Judaism that was not put upon them by adults. And as I spoke to these peers and got to know them better, I heard time and time again that they had, at one point or another, attended a Ramah camp. I had never heard of Ramah, and wondered what this place was where, summer after summer, young children, teenagers, and even young adults were in an environment that allowed them to explore Judaism for what it was; for its beautiful aspects and its faults. It allowed them to learn, without even being aware that they were being taught. It made Judaism fun and approachable and a way to be together with your best friends. This was not really an aspect of the religion that I had grown up knowing, but it intrigued me to say the least.
My college experience formed into something that I could never have expected and that I would not change for anything. I developed a connection and love for Israel and consequently went on Birthright through Binghamton Hillel after my freshmen year, and spent an entire summer there the next year. I began to have a deeper appreciation for the holidays and the meaning behind them and their customs. I attended Shabbat dinner every week that I was at school, because missing it was not something I wanted to do. I decided in my junior year to take Hebrew. It went from being a language that I had always been somewhat acquainted with and turned into a beautiful language that made me feel even more connected to Israel and Judaism.
I could go on forever listing the ways in which being part of a Jewish community positively impacted my college experience and my life after college. I know that although I never attended a Ramah camp, the impact that Ramah had on my peers changed my life for the better, and it's a change that has carried through into my post-graduation life. This could be as obvious as attending a Reshet Ramah event, or just even in the fact that one of the ways my friends and I choose to connect is by having a Shabbat dinner on a Friday night. I will be forever grateful for this, and I know I will always be a friend of Ramah.