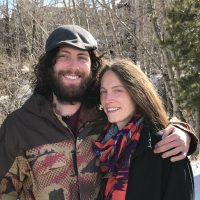 Yael Goldfeder Greenberg & Bryan Goldfeder Goldstein
In 2016, when the infancy of Ramah Galim demanded a rapid influx of new staff, Yael and Bryan, aka BGOLD, arrived on the delegation to save the day. Yael took a kitchen position and Bryan became Rosh Harpatka and a counselor for eight year olds. Though Yael and Bryan had met briefly in passing at Ramah Rockies, they hadn't exchanged more than a few words, and the summer fling that ensued took them both by surprise.
Two years later, they smashed the very first BGOLD Glass chuppah set and embarked on the journey of building a life together. Currently they collaborate on BGOLD Glass, a glassblowing venture focused on intentional Judaica, recycled glass, and functional art.
To check out their work, click here: https://www.bgoldglass.com/wedding-glass