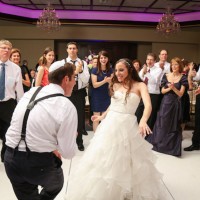 Adi Segal & Danielle Schindler
Adi and Danielle's story was featured in "Weddings, Jersey style: A summer camp romance with a fairytale ending," by Janelle Griffith (NJ.com, June 24). Click here to read the full article and to view more photos (all provided by Natural Expressions NY).
Danielle Schindler and Adi Segal's relationship began as a summer romance.
From 2000 to 2004, the two were campers at Camp Ramah in the Berkshires. In 2007, Segal returned to the camp as a counselor. Not long after, Schindler followed suit. And in the summer of 2009, with many other counselors out sick or on vacation, the two bonded over an unenviable task — entertaining 85 jumpy, excitable 11-year-olds.
Schindler and Segal spent many days crafting and implementing the programs for "Maccabiah," a "color war" game. As they desperately tried to amuse the pack of pre-teens, they also found they had a knack for making each other smile.
Soon after their attraction was apparent.
In the coming weeks, Schindler and Segal shared their first kiss on the camp softball field. After the summer ended, the couple parted ways.
Although they were not yet a couple, they stayed in touch in the coming months. During his junior year of college, Segal went to study abroad in Israel, while Schindler attended the University of Connecticut. Schindler would later join Segal at the Hebrew University of Jerusalem in her sophomore year for a spring semester abroad.
For the next three years, Schindler and Segal were in a long distance relationship.
On July 4, 2014, five years after their first summer together, Segal proposed to Schindler in the same spot where their story began — the Camp Ramah softball field. They were surrounded by family and friends, as well as by Schindler's original campers.
Segal hosted an elaborate scavenger hunt through the camp, which culminated with his revealing life-size balloons to Schindler that read: "Marry Me Danielle."
Schindler and Segal wanted to wed in June because they believed the weather would be beautiful. More important to the pair, though, was the significance of their wedding date — June 14, 2015. It was the same weekend as their parents' respective wedding anniversaries. Segal's parents celebrated their 40th wedding anniversary on June 15, 2015 and the following day marked Schindler's parents' 30th year together. Segal's parents are also a Ramah Marriage (see their story here).
"Our parents have set great examples for us as loving partners and role models," Segal, 26, said. "What better way to honor them and send us off into our new life together?"
Schindler and Segal personalized their big day through song and dance. They performed a choreographed dance to a compilation of Ed Sheeran's "Thinking Out Loud" and Bruno Mars' "Marry You." "Even with all the practicing, Adi was not feeling confident," Schindler said. "He even made me secretly practice moments before we had to perform in front of 300-plus guests." As the music started however, their muscle memory kicked in and the couple performed a flawless 2 1/2 minute routine.
"At the end of the dance, the band immediately segued into Pharrell Williams' 'Happy,' bringing the crowd back onto the floor," Schindler said. "People loved it and still can't stop talking about."
An unplanned moment made their wedding particularly memorable. "As we were standing under the chuppah, right before I broke the glass to conclude the ceremony, we had two friends sing the Hebrew song 'Im Eshkachech Yerushalayim' (If I forget thee, O Jerusalem)," Segal said. "All of a sudden, both families joined together, arm in arm, swaying together in one circle, as one new family." Many of their guests who knew the song also joined in. "Tears began to flow and everyone was uplifted in this spiritual and emotional moment," Segal said.