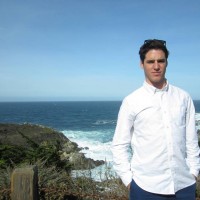 Jeremy Schreier's Reflection
Ramah Darom alumnus, Jeremy Schreier, along with Ramah California alumna, Talia Spitzer, have laid the groundwork for a Ramah alumni community in Dallas, Texas. Here is Jeremy's reflection of the first ever Ramah alumni event in Dallas, as well as thoughts on his Ramah experience. 
It was such a pleasure to meet and enjoy the company of several fellow Ramah young alumni at a recent Reshet Ramah happy hour in Dallas, Texas. It has been five years since my last Ramah summer (when I worked on tzevet at Camp Ramah Darom in 2010), but at the Reshet Ramah event, I quickly felt a strong connection with fellow alumni. We shared memories of our camp days and enjoyed reflecting on the differences between our respective camps – Darom, Ojai, and Wisconsin. There was a tremendous feeling of nostalgia as we recalled common "Ramah-isms" like Yom Sport, hanging out by the lake, and the wonderful spirit of Shabbat at camp. Even though we had just met each other, the common thread of our Ramah experiences brought us together.
This sense of warmth and familiarity in the company of a dozen people who just met each other should not be taken for granted. It should be credited to our summers as campers at Ramah, which instilled a passionate commitment to Jewish learning, observance, and community. I hope to see Reshet Ramah programs continue to strengthen. As we grow older and the distance between our current lives and our days as campers becomes greater, the moments in which we are surrounded by fellow Ramahniks become all the more potent. They remind us of the summers at Ramah that very much shaped who we are and how we relate to our greater Jewish community, and should inspire us to consciously incorporate the Ramah experience into our daily lives.