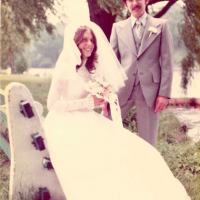 Eric Segal & Karen Legman Segal
Karen Legman and Deena Segal became fast friends in Machon, in 1968 at Camp Ramah in the Berkshires. To this day, their friendship is thriving as they formed deeper bonds in June 1975 when they became sisters-in-law. Deena introduced Karen to Eric back in high school not even imagining what would ensue. Later on, Deena also met her husband, Rabbi Sam Fraint, at Ramah Berkshires. You can read Deena and Sam's story by clicking here.
Karen and Eric's 1970 summer romance endured peaks and valleys until 1974 when they became engaged. They both credit David August, former Camp Director, for bringing them together in December 1973 by scheduling back to back camp interviews and insisting that Eric escort Karen downtown after their meetings. David realized early on that the two were meant for each other. And he was right.
Sharing their love for Camp Ramah has certainly cemented Segal family values as Karen and Eric raised their four children with the highest regard for Camp and a true appreciation for the institution. Once Orli, Karen and Eric's youngest child, was toilet trained the family packed its bags and summered at CRB where Karen was a longtime yoetzet. Karen and Eric could not think of a better way to raise their kids. Today, each Segal child (Shira Lee, Adi, Hillel and Orli) has matured after experiencing Camp as a camper and staff member and each attribute many of their friendships and successes to CRB.
A recent bonus for Karen and Eric was witnessing a second generation Ramah marriage, their son Adi Segal to Danielle Schindler, who exchanged wedding vows on June 14, 2015.