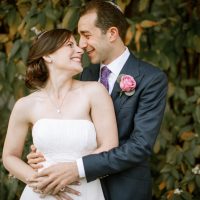 Sarah Attermann Topal & Scott Topal
(Originally appeared on The New York Times as "A One-Way Ticket to Chicago".)
While Sarah Ariel Attermann spent a quiet evening at home on Jan. 18, 2019 sipping white wine on her couch in Washington, she sent Scott Michael Topal, who lived in Chicago, a Facebook message: "From what I've heard, you're a great person to know. Hope you'll plan a visit to D.C. soon!"
Mr. Topal saw her Facebook message a day later, after returning home from a four-day conference about new technology in summer camp management in Boulder, Colo. Her name came up when he ran into a colleague, who had taken over her job as program director at Camp Ramah Darom in Atlanta.
"And, likewise I hear that you're pretty awesome. How does a Daromer wind up in D.C.?" he asked her.
Actually a week earlier in Washington over dinner, his brother and his brother's roommate told her that they wanted to introduce her to him, especially since each had strong ties to Camp Ramah, a nonprofit network of Jewish camps. Ms. Attermann, 34, who started out as a camper and counselor at Ramah Darom in the North Georgia Mountains of Clayton, Ga., after college worked year-round as its program director. Mr. Topal, 32, worked at Camp Ramah Wisconsin in the Northwoods of Conover, Wis. He is now the director of operations of the camp and based in Chicago. He graduated from Northwestern.
"I looked at his Facebook picture," she said, and recalled thinking, "'He's cute. He's really cute.'"
With no introduction in sight, she had taken matters into her own hands with her message. Mr. Topal enjoyed their repartee, and, intrigued, sent her his phone number a couple of days later not knowing when they would ever meet.
"We texted a running commentary of our days pretty quickly," said Ms. Attermann, then the youth and family educator at Congregation Adas Israel in Washington, and now the director of youth engagement at the North Suburban Synagogue Beth El in Highland Park, Ill. She graduated from the University of Florida, from which she also received a master's degree in elementary education. She received a master's degree in Jewish education from the Jewish Theological Seminary.
A month later Ms. Attermann's boss, Rabbi Kerrith Solomon, aware of the budding romance, asked her to travel to Chicago to observe a synagogue youth program. Ms. Attermann met Mr. Topal for dinner at an Italian restaurant in Chicago on a cold Friday evening in mid-February.
"He was very attentive and had a big smile on his face," she said, and met him again the next day at Cloud Gate, the public sculpture known as the Bean, in Millennium Park. Later, when he dropped her off at her hotel via Uber, they hugged goodbye.
"The logistics of it scared me," he said. "But there was something about it that felt right."
Before he booked a flight to visit her in Washington in March 2019 he called his brother, who had no clue until then of anything going on, and stayed with his brother in Washington while he did touristy things with Ms. Attermann. (The rabbi got regular progress reports).
At the end of April, Ms. Attermann visited him in Chicago, and in July spent a weekend at Camp Ramah Wisconsin, where they kayaked, hiked and sat by the lake and talked.
"By the summer I knew this was someone special that I wanted in my life forever," Ms. Attermann said.
In March 2020, after he visited her, she flew back with him to Chicago with only a suitcase, planning to stay a couple of weeks during the coronavirus pandemic. She ended up moving in. In July, he proposed at their apartment decorated with white and silver balloons.
"We each have brought so much light and happiness into each other's life that getting married during the holiday of Hanukkah felt right," he said.
They were married Dec. 10 by Rabbi Solomon outside the Bethesda Marriott Hotel, an 11-hour drive from Chicago. Ms. Attermann is taking the groom's name.
On Dec. 12, the third night of Hanukkah, the rabbi led a religious ceremony remotely, with Jacob Cytryn, the executive director of Camp Ramah Wisconsin, participating in-person. Twenty guests, including their parents and immediate family members, were there in person and about 240 others watched via livestream.