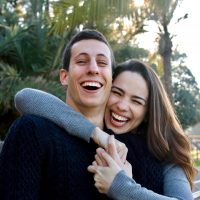 Micha and Sarah Gordis | California
Micha recently finished a bachelor's degree in Computer Science and works as a software engineer at PayPal in Tel Aviv. Sarah has a bachelor's degree in Psychology and Linguistics from Emory University. She currently works as a program manager at the African Refugee Development Center, a non-profit organization in Tel Aviv that provides assistance for African asylum seekers. Micha and Sarah enjoy traveling, tennis and running, music, and holding hands.
Sarah and I met at Camp Ramah in California in the summer of 2011. It was my second summer as a madrich and Sarah's first. At the beginning of the summer, I spotted Sarah struggling with an oversized laundry bag on her way from the staff parking lot to the girl's shetach, so I offered my assistance and carried her bag to her tent. A few days later, we saw each other again at a staff program, and the night ended with our first kiss. For the rest of the summer, we were pretty much inseparable, though we both thought that the relationship would end with the end of camp, as I lived in Israel and she lived in the states. However, as we went back to our normal lives, we quickly realized that it wouldn't be possible to let each other go. Although we struggled to find a way to stay together that first year, our return to camp the following summer cemented our love for each other and commitment to making the relationship work. By the peak of the summer, I was sure that Sarah was the one I was going to marry. Before I left camp, I gave Sarah a love letter telling her that she was "the one." Sarah quoted this very letter in the vows she read at our wedding a few weeks ago.
In the end, we kept our relationship going through five years of long distance— while I was in the IDF, national service, and part of university, and while Sarah finished high school, and started and finished college. During this time, we took turns visiting one another and were able to be together for about two weeks every 4-6 months. After five years, when Sarah graduated from college and finally had the flexibility to make a big move, she moved to Israel and officially ended the long-distance chapter of our relationship. Since then, we have lived together in Tel Aviv. Shortly after Sarah's move, I proposed, and we got married 10 months later in Los Angeles.
My parents like to remind us that they also met at Camp Ramah in California—about 100 yards from where Sarah and I met—and my grandparents met each other at Camp Ramah Poconos, making us a third generation Ramah marriage.
Needless to say, Sarah and I will be sending our future children to Camp Ramah.