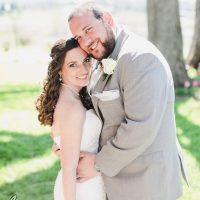 Daniel Bekerman & Marni Bronstein Bekerman
Daniel and Marni officially met in the Summer of 2008 as staff members on the porch of Bunk 19 at Camp Ramah Darom. Marni was on Tzevet Nitzanim and Daniel was on Tzevet Chalutzim. They both grew up in Atlanta, only a mile away from one another. However, they didn't meet until summer 2008.
After the summer, Daniel visited the University of Georgia (UGA) almost every weekend (to see his cousins), but he really visited to see Marni. They stayed close friends until 2010, when Daniel asked Marni to be his girlfriend. Camp remained a very important part of their lives and they continued to be on staff together until 2011.
Daniel FINALLY proposed in January 2016 and the couple got married on April 2, 2017 at the Dillard House, a popular day off location half an hour from camp. They shared one of their first dates together at Dillard,  going Horseback Riding on a day off from camp.