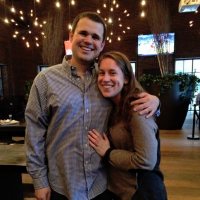 Graeme Ossey & Lauren Mendel
Lauren and Graeme both attended Ramah Darom as campers but because they were in different edot, they did not know each other as campers. It was only in 2009 that the two met during a forced day-off inside of camp because of swine flu. They began dating that summer and continued a long distance relationship between Atlanta and Chapel Hill for two years.
The couple moved to New York City together after Lauren graduated college. In January of 2016, Lauren and Graeme were married in Lauren's hometown of Boca Raton, Florida surrounded by family, friends, and lots of Ramahniks!