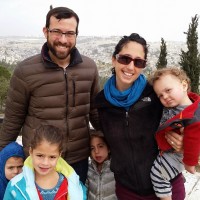 Emily and Ari met at a Koach Kallah in Chicago the Winter of 2002. They quickly fell for one another and began a long distance relationship. Ari attended Ramah New England as a camper and Emily attended Ramah Wisconsin. They began working together as staff members at Ramah Darom as the perfect way to share their new commitment to one another along with their commitment to Judaism.
In the summer of 2006, Emily and Ari were married in Emily's hometown of St. Louis. The next Shabbat, they were at Ramah Darom, celebrating their Sheva Brachot with the entire camp.
"We will never forget Nivo and Gesher singing "Od Yishama," and lifting us on chairs. It is one of our most precious memories from our wedding experience."
The next summer, they were back at Ramah Darom. They are now looking forward to the day when their children can experience the fun, warmth, and ruach of Ramah camping.