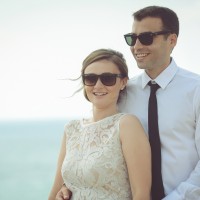 Julia and Omer met as counselors at Camp Ramah in New England in 2009. On the first day of second session, Julia had to take her bunk to boating chug where Omer, a member of the mishlachat, was serving as a lifeguard. During the chug, Omer offered to take Julia in a canoe out on the lake. The next day, Julia forced all of her campers to go to boating chug even if they didn't want to go to boating chug. And the day after. And the day after that.
Julia and Omer reconnected in November after camp when Omer returned to Israel from a trip in Central America. They soon realized that they were practically neighbors, as Julia, who was studying at the IDC Herzliya at the time was only 10 minutes away from Omer's hometown of Ramat Hasharon. They began dating and returned together to camp in 2010.
In July 2015, the couple got married surrounded by many camp friends. In August, they moved to Washington D.C. to start their graduate studies.