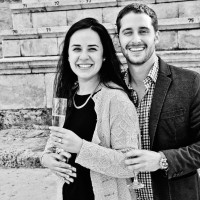 Jake Weiner & Shahar Elmaleh
Shahar and Jake met during staff week in the summer of 2011. It was the first summer at Ramah California for both of them. Shahar was from Israel and heard about Camp Ramah through a friend she met on Birthright, where she worked as a solider. Jake, originally from Los Angeles, had grown up with many Ramahniks and spent many weekends up at camp in Ojai, but was excited to start his first full summer as a staff member.
They spent all of staff week together, learning about each others cultures, families, and of course flirting…a lot!! They both did not know what to expect from the summer, but were very excited to have at least one other person to share camp memories with.
We spent the entire summer together and realized about half way through, that the connection we had formed was something real and special and had potential to last long after camp ended.
After camp, Jake moved to Israel to start a program working in Eilat. Shahar spent a month traveling, but both agreed to stay together and see what would happen back in Israel. After a year together in Israel they moved to Los Angeles. Shahar is now a senior at California State University Northridge studying Vocal Performance and Jake has his own company called ZOOZ FITNESS – exercise and wellness for people with all abilities.
On January 5, 2015 Jake traveled to Israel and surprised Shahar, who was already there visiting family, and proposed in the Amphitheater in Caesarea!
Less than a year from now, June of 2016, Jake Weiner and Shahar Elmaleh will be married under their chuppah in Israel.