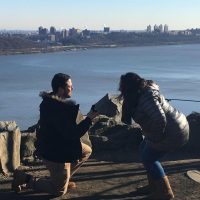 Jillian Weisman Mandell & Josh Mandell
Jillian and Josh met while they were both working at Camp Ramah in Nyack the summer of 2007 – Jillian as a counselor in Tzeirim and Josh as a counselor in Nitzanim. Little did they know, they each were crushing on the other. While they were friendly that summer and the next few summers they spent working in Nyack, they lost touch during the years after camp. Fast forward to 2013, Jillian and Josh (and the rest of their friend group) were reunited at a mutual Nyack friend's wedding in Denver. After the wedding, their friend group went back to NYC and began to explore the city together, giving Jillian and Josh the opportunity to rekindle their friendship and slowly get to know each other better.
Jillian and Josh got much closer in the following months and in November, 2013, Josh had a tough decision to make: attend a friend's house party, or celebrate with Jillian at her birthday party that same night. Josh made a point to spend a significant portion of the night with Jillian celebrating her birthday. Soon after, Jillian and Josh decided to explore a relationship, and they made it official in May, 2014.
In February 2016, Jillian told Josh that she wanted to spend some time on Sunday helping her parents pack up their house for their impending move. It was perfect timing, because Josh's sister Missy was also in town for the weekend. On the way, driving on the Palisades Parkway, Josh asked if they could stop at the scenic overlook, something they often enjoyed doing together. Despite it being literally the coldest day in 100 years, Jillian agreed to stop and take a couple of pictures. As they drove up, Josh mentioned there were a number of people there who had the same idea. Jillian responded "Yeah, they are probably all getting engaged or something!" They parked the car and walked to the edge where they took some selfies with their favorite background, New York City. After their short photo shoot, Josh said he wanted to ask someone to take a full length picture. Jillian couldn't understand why a selfie, one of Josh's most favorite things, wasn't enough. The kind stranger took a picture and as Josh said "just one more", he promptly got down on one knee. As you can see from the pictures, Jillian was totally surprised! After a few more pictures and couple of phone calls, Jillian and Josh got back in the car and headed to her parents' house, where both families were awaiting their arrival, to celebrate the happy occasion.  
Jillian and Josh shared their wedding vows on October 30, 2016 in Fair Lawn, New Jersey. They both work in New York City – Jillian has been working at the National Ramah Commission since 2017 – and recently moved to South Orange, New Jersey.