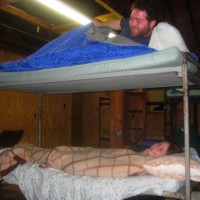 Ephram Levin & Carlie Hershgordon
Ephram and I first met at USY Fall Convention in 2003, when we were introduced to one another by mutual friends. We worked together on Tzevet Machon 2005 during our JC summer at Ramah Poconos.
Over the next several years, while we ran in the same social circles, we were never particularly close. On December 25, 2012, after I had graduated from Pharmacy school and Ephram had returned from staffing TRY, we ran into each other at the Matzah Ball in Philadelphia. We went on our first date February 15th, 2013.
The next summer, Ephram's parents ran into Aliza Zeff, the wife of former Poconos Director Rabbi Todd Zeff, in Jerusalem just before Shabbat. She invited Ephram's parents over for lunch the next day. During Shabbat lunch, Todd stated that when the time came, he would love to marry Ephram and I. We were not yet engaged, but took him at his word. When the time came two and half years later, Rabbi Zeff helped make November 29, 2015 the best day of mine and Ephram's lives.