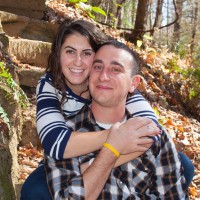 Bobby Jacobs & Alana Goldstein Jacobs
Bobby and Alana met at Ramah Darom in the summer of 2008 while working on Tzevet Mayim. Bobby and Alana began their relationship the following summer and made long distance magically work from Massachusetts to Florida for three long years.
In December 2011, Bobby proposed and they both knew immediately that they were going to get married at Ramah Darom. On November 10, 2012, Bobby and Alana's family and friends joined them in the middle of the mountains to celebrate their wedding.