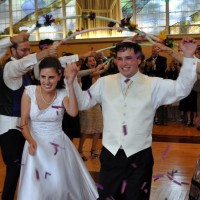 Rafi Spitzer & Rachael Besser
Rachael Besser, long time camper and counselor at Camp Ramah in the Poconos (Gesher '04) and Rafi Spitzer, counselor and Rosh Edah at Camp Ramah in New England were married on September 2, 2012. While Rafi and Rachael did not meet at Camp Ramah (they met through friends at the Hillel of Boston University), Ramah has been a large part of their lives, contributing to the shared values and experiences that are important to them both as individuals and as a couple.
Both Rachael and Rafi are second generation Ramahniks: Marc Besser (Poconos), Rabbi Miriam Spitzer (Canada) and Jeffrey Spitzer (Wisconsin) all loved their Ramah experiences. Rachael and Rafi enjoy Ramah-style davening, feel at home within the Ramah community, and share that some of their closest friends are from camp.
When Rachael and Rafi met in the fall of 2008, Rafi had not yet been to Ramah, but had plans to attend camp the following summer as a counselor. Early on in the relationship, Rafi confided to Rachael that he planned to become a Rabbi, and warned her that life with him would be the life of the Rabbinate. Without missing a beat, Rachael responded that Rafi should not fall too deeply in love with Ramah New England, because her kids would be attending Camp Ramah in the Poconos. Rafi agreed quickly, without realizing how attached he would become to Ramah New England. A commitment is a commitment, however, and Rachael has been nothing but supportive as Rafi began his Rabbinic journey.
Rachael and Rafi are honored to be considered a Ramah marriage, and hope to be members of the Ramah community for many years to come.