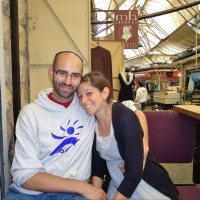 Ethan Witkovsky & Erin Beser
Ethan worked as a Yahadut teacher and Rosh Edah at Camp Ramah in New England, as well as a Rosh Edah at Ramah Day Camp in Nyack. Erin was a camper and staff member at Camp Ramah in the Poconos. While they did not attend Ramah together, they met halfway around the world in Israel in 2009, where Ethan was pursuing his "Israel Year" as a Rabbinical student at the Jewish Theological Seminary and Erin was studying at the Shalom Hartman Institute.
Ethan and Erin married in March, 2012, and currently live in New York City.