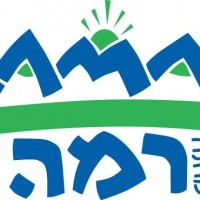 Ramahniks Celebrate Shabbat at Columbia/Barnard Hillel
On Friday, April 24th, Ramah alumni from Columbia, Barnard, and List College held the second annual Columbia/Barnard Ramah Shabbat Dinner at the Columbia/Barnard Hillel, sponsored by the Ramah College Network. 30 Ramah alumni who attend Columbia or Barnard came together to eat Shabbat dinner, share camp memories, and have Friday night shira. Below, Ramah Berkshires staff member and camper alumna, Deborah Pollack, shares some highlights of the evening.
While each of us came in knowing different camp traditions and varying camp experiences, there was a bond and comfort that we all felt with each other that was palpable. From the moment we entered the room where we were going to eat, you could sense the "Ramahness" of this experience. First, you had everyone offering to help set the table, pass out food, and volunteering to lead kiddish and motzei. When we sat down, everyone was schmoozing with those they knew from late night shmirah at camp, from their current dorm room, and especially with those they did not know. After the meal, we sat around and sang with the harmonies and hand motions that we new from our individual camps. Everyone was singing along, banging on the table, and helping their lost neighbor find the right page. Everything about the night pointed to the fact that the Ramah experience is not only about a camp, or a physical location per se. Rather, it is about gaining tools to help built ones Jewish life. Ramah empowers its campers and staff to be Jewish leaders, helping those feel comfortable and confident in their abilities and Jewish expression, and in simple terms – how to be mensches. Camp is not the only place where you can have these special and elevated experiences, but rather, you can have a Ramah moment anywhere; in camp itself and even on a college campus.
Are you a college student interested in hosting a Ramah Shabbat on your campus? Check out the Ramah College Network to bring the spirit of a Ramah Shabbat to your college!