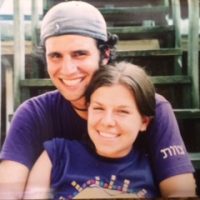 Summer Lovin' Had Me A Blast
Zach Peikon and Lindsay Sherrin | Nyack
The following piece was read at an event over the summer at camp. Zachary and Lindsay met at Camp Ramah Nyack in 2003 when they worked together in Shorashim. They were married in 2014 in Philadelphia, PA. They currently live in Manhattan.
(Zach) Hi, my name is Zach Peikon. I worked at Camp Ramah Nyack during Summer 2003 and 2004. I wasn't originally planning to work at Ramah since I was a life long camper at another day camp.  However, one of my best friends, Daryl Litwak, spoke to me about Ramah Nyack prior to Summer 2003 and I decided to give it a try. I was looking for a summer experience that would produce great friendships, enable a deeper connection to Judaism, and provide a sleepaway camp experience.
(Lindsay) Hi, my name is Lindsay Sherrin. I worked at Camp Ramah Nyack during Summer 2002, 2003, and 2004. Growing up in the suburbs of Philadelphia I had never heard of Camp Ramah Nyack, though was very familiar with the Ramah organization. My sisters and cousins were Ramahniks, whereas I never was.  When Ramah Nyack was brought to my attention I was immediately intrigued at the idea of becoming a Ramahnik and understanding that sense of community.  Many of my USY on Wheels and Pilgrimage friends would be working at Ramah Nyack, therefore I was very excited to be here!
(Zach) On the first day of staff week I entered Rear Staff to learn that I would be rooming with four friends and one unfamiliar face. Sure enough, this person would become my bunkmate and eventually one of my close friends. Avram Klein, who has helped to create this event, was initially a stranger but over the years has become one of my best friends. I was a groomsman at his wedding and he was a groomsman at mine.
(Lindsay) I recall the first day of staff week when everyone was instructed to congregate on the migrash to learn the dances for the summer. As I walked with a close friend, a new guy from my edah stopped and said "Hi, I'm new nice to meet you, I'll be in Shorashim this summer".
(Zach) As we walked to the migrash that first day of staff week, I was eager to meet the other counselors from Shorashim. I introduced myself to this girl and quickly ran off to meet my friends on the migrash.
(Lindsay) As the summer progressed many laughs, memories, and experiences were shared with friends and campers, but also with the guy from the migrash.
(Zach) Lindsay and I became very close friends during my first summer in camp and our friendship eventually led to so much more. We kept in touch throughout the year and visited each other at school. We were very excited to return to camp in 2004 for another incredible summer. We recognized that while we met at camp, our sense of Judaism, beliefs, and values helped sustain our long-distance and long-term relationship. Upon finishing school in Pittsburgh and Boston, we both moved to the New York Metropolitan area. In the summer of 2013 we got engaged and were married in August 2014.
(Lindsay) Zach and I frequently talk about Ramah Nyack, our summers here together, and the uniqueness of this place. Take advantage of all camp has to offer and the incredible people here. Ramah Nyack provided lasting memories, lifelong friendships, and brought us together, it really is home.