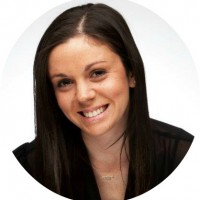 Nessa Geffen's Reflection
The thread between my summers at camp, as I saw it, was not my college experience, per-se, but rather my experiences in Israel. I found that my time spent in Israel after high school supplemented my time at camp, and vice-versa. After my first summer as Tzevet, I spent the year in Israel and traveling around the world on KIVUNIM. I came back to Israel a short year and a half later to study abroad at the Hebrew University of Jerusalem (Rothberg International School). Israel has always felt like home to me, and has always been my strongest connection to my Jewish identity. I always say that going on Ramah Seminar was one of the most incredible summers of my life because it combined two of my absolute favorite things: camp and Israel. Each time I had to leave Israel, it was a blessing knowing that I got to reinsert myself into life at home through camp. I got to reflect and meditate on my experiences while sharing them with my campers, and trying to help them find similar passions. I always said that I don't know how I would have been able to properly integrate myself back into society without a summer at camp to recuperate. It saved me.
I had not planned to move to Israel and become a Jewish educator, but the stars aligned in a way I could not resist. After majoring in both music and Jewish studies in college, I went on to receive my masters in Jewish experiential education at the Jewish Theological Seminary in New York City. And finally, in June 2013, I decided to move my life to Israel to work for KIVUNIM as the Alumni Affairs Coordinator. Although I have not made my move official, I am extremely happy with my life here, and I attribute so much of my passionate love for Israel and Jewish education to my life at Ramah (which although is on hiatus, I hope is not over). If Ramah had not been such an integral part of my life, I can't say for certain that I would have chosen this field. What I do know is that Ramah gave me an incredible power to become a Jewish leader and professional. It gave me a confidence that I am not sure I would have found anywhere else, and continues to show me the importance of empowering the next generation of Jewish leaders. I owe so much to Ramah, and will forever be indebted to it.