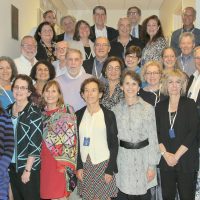 A Transformative Event, Then and Now: 1966 Ramah Israel Seminar, 50th Anniversary Reunion!
Susan Birenbaum Stone | Poconos
Louie Elfant Asher | Poconos
Ellen Marder Pries | Poconos
The writing on the cake said "Israel Seminar 1966 – 50th Anniversary," and although nearly 30 participants of the original 82 (plus a number of spouses and partners) had already been together for 24 hours, there was still a feeling of wonder and amazement as we looked back together. After all, many of us had not seen each other in 50 years! As participant Howard Winter said, "I can't describe to any of you what this Shabbat has meant to me. So much came flooding back in such a short time. It was wonderful to see the kind of people our Ramah friends have become."
The first Seminar to Israel was organized in 1962, and we were the 5th group of wide-eyed 16- and 17-year-olds that Ramah brought to Israel for an 8-week summer experience of touring, exploring, and learning.  We came from Ramah camps in Pennsylvania, New York, New England, Wisconsin, and Canada. Many of us had never traveled by plane before, and certainly not overseas. We all remembered the excitement of landing on the old airstrip at the Lod airport, a few even bending to kiss the ground. Furthermore, the State of Israel, established in 1948, was only one year older than we were! Of course, to teenagers, anything before we were born seemed like ancient history.
Israel was, to our inexperienced eyes, a rapidly developing country with ancient ruins and vast expanses of desert and mountains, but also modern buildings, hotels, beaches, and populated cities. Still one year before the Six Day War, we were unable to enter the Old City of Jerusalem, then within Jordan's borders. But we were able to peek over the rooftop of a tall (8-story?) building through well-guarded sandbags and over the walls into the Old City. Security was always a concern, even then, and we were searched on buses and in movies and supermarkets. Yet, we were also aware that we, as American Jews in Israel, were having a unique experience of belonging to the majority culture for the first time in our lives.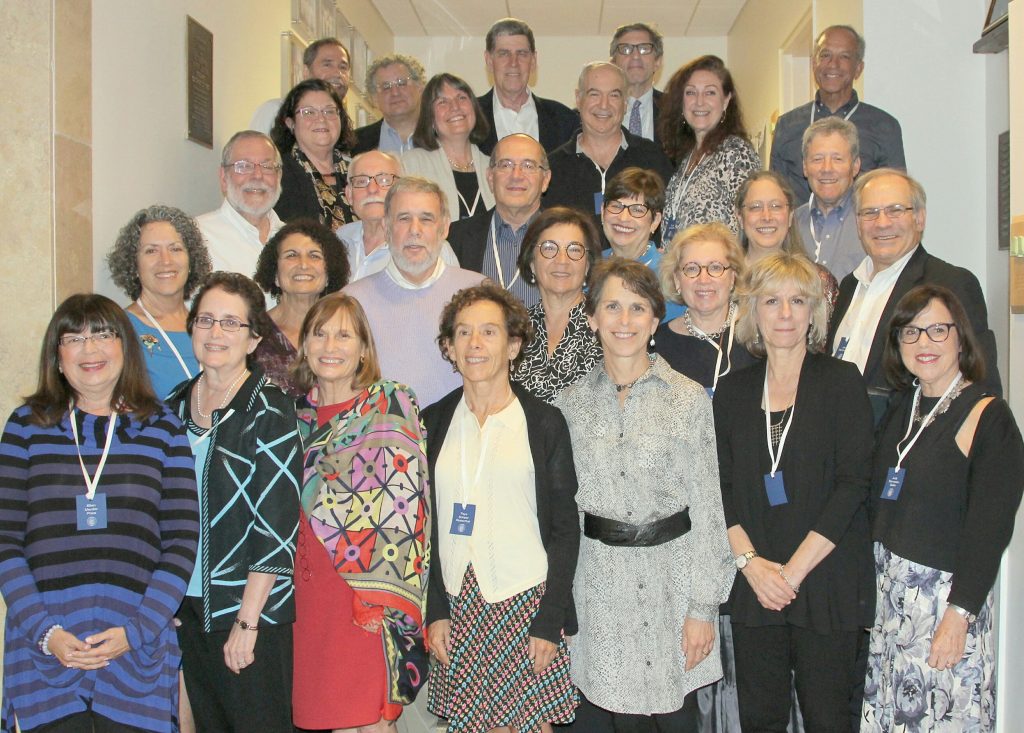 On September 16, we travelled to Temple Adath Israel in Merion, PA, from Israel, California, Illinois, Maryland, Virginia, New York, Massachusetts, New Jersey and the Philadelphia area to remember, recall and reminisce. What ensued was a traditional Ramah Shabbat as we remembered it, with services (using the traditional melodies from 1966), singing of old popular songs, and enjoying Shabbat meals together. No Ramah experience is complete without study, and participants prepared Divrei Torah and afternoon programs: Israel: Then and Now; Israel: 50 Years of Business and Technology; Ramah: 50 Years of Evolution; and Jewish Education: Then, Now, and Moving Forward.
Following Havdalah, we had an evening of socializing, watching old "home-movies" taken that summer of our exploits, and singing old pioneer songs of a former generation! The weekend concluded with Sunday brunch, where the main topic of conversation was how we might continue to nurture the renewed connections with the group. We all agreed that we should hold our next reunion in Israel in a few years!Barry Mann commented that, "It was really a wonderful weekend of re-connection — and meant so, so much to me on many levels. I really found it to be a profound and inspiring life milestone."  A common life-changing experience, even for only two months so many years ago, has continued to bind us together, and we all felt richer for it.We are indebted to Rabbi Abigail Treu and Reshet Ramah for providing support services in anticipation of this reunion:  helping to locate participants, providing administrative assistance, and managing the registration and finances for us.  If other groups are interested in a reunion of their own, we can now offer an established format to facilitate your efforts!
Philadelphia Reunion Committee: 
Susan Birenbaum Stone, 
Louie Elfant Asher, 
Ellen Marder Pries, 
Bill Landsburg, 
Barry Mann, 
Mitchell Romirowsky, and 
Howard Winter.
Susan B Stone – Susan went on from Seminar to study at Barnard College and St. Louis University School of Law. She was previously the Director of Finance and Operations at the Auerbach Central Agency for Jewish Education. Since her children were born, she volunteered in their schools and at synagogue (Education Committee, Bar/Bat Mitzvah Committee, Board of Directors, etc.) She was on the Board of Directors at Camp Ramah in the Poconos for many years, then president of the camp for 4 years. She's still volunteering at the shul and involved with the Leadership Council for Clarke Schools for Hearing and Speech. Susan has three children and a grand daughter that she and her husband visit often. 
Louie Elfant Asher – Louie left camp and completed her undergraduate degree at Tufts University and her masters degree at Boston University. Her career was in occupational therapy both in the field itself, as well as teaching, writing OT textbooks, working as a case manager for people with catastrophic injuries. She keeps busy in her retirement rowing on the river, entertaining her grandchildren, folk dancing and singing, and generally trying to be useful in the community.
Ellen Marder Pries – Ellen attended University of Pennsylvania and received BA in French with Minor in Spanish Gratz College ECE in Jewish Studies. She started out in International Banking and then switched gears to education after she had her family. She taught at two Jewish Pre-schools and Akiba Hebrew Academy, (now known as Barrack) where she taught Spanish. Ellen moved up to the college level at Harcum College where she taught French and Spanish and then managed a federal grant for under served populations through the US Department of Health and Human Services. In retirement, she is on the Executive Board of the Women's Division of Israel Bonds. She is a fourth year student at The Barnes Foundation. Since 1976, Ellen has served as Women's Class President of her undergraduate class at Penn. Ellen in her free time loves spending time with her two children and four grandchildren!