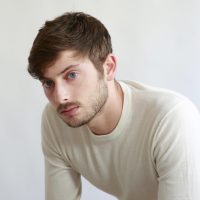 Israeli Actor Amit Rahav's Journey from Camp Ramah Darom To Netflix's 'Unorthodox'
by Renee Ghert-Zand
Landing one of the lead roles in the Netflix mini-series "Unorthodox" was life-changing for Israeli actor Amit Rahav.
"But so was being a shaliach to Camp Ramah Darom," Amit said.
Amit, 24, has received an overwhelmingly positive response from viewers for his portrayal of Yanky, the young husband of heroine Esty, who escapes her life in the Satmar Hasidic community in Brooklyn to start over in cosmopolitan Berlin. Yanky's character arc is complex and heartbreaking, and Amit plays the part exceptionally well.
Among those reaching out to Amit to compliment his performance are former colleagues from Ramah Darom, where he was a drama counselor in summer 2016. At the time, he was just finishing up his Israel Defense Forces service and was thrilled to have been chosen to be a member of the Ramah mishlachat. 
In fact, the amazing experience he had at Ramah started even before leaving Israel. "The preparatory seminar we had in Israel was the best four days I had up until then in my life. It was so enlightening. I felt so alive and part of the group. I learned so much and was able to express my own opinions. A whole world opened up to me," said Amit, who lives in Tel Aviv and is a student at the Yoram Levinstein Performing Arts Studio.
According to Amit, he was encouraged to apply for a position at Ramah Darom by a good friend from the army who had worked at the camp the previous summer. She suggested that the two could possibly work together that summer, and assured Amit that he would have the best time. 
"She spoke about Ramah Darom like she had gone to heaven and back," Amit said. "But I was nervous because I grew up secular in Israel and wasn't sure I would find my place in the world of Conservative Judaism."
Hesitation turned to joy as Amit was welcomed to the Ramah Darom community and came to feel part of the larger Camp Ramah movement. 
"I felt so loved in a powerful way. I came to understand how important it is for Jews outside Israel to keep connected to Judaism — and also for me to keep connected. I definitely came back from Ramah connected to Judaism and all the practices I learned at camp. I still feel close to this community, and I think I always will," Amit said.
Amit misses his colleagues from Ramah terribly and still keeps in touch with many of his American co-counsellors. He even had a chance to meet one such friend when he was in New York for a few days of filming for "Unorthodox" last year.
The actor said he was grateful to have the opportunity to be part of the telling of the coming of age story of "Unorthodox." Although it takes place in a very specific milieu, it is nonetheless a universal tale. 
"It's about finding yourself, your own voice. It's about how there isn't one single truth, way of life, or way of loving. Being part of this project was such a gift to me," he said.
It was challenging for Amit to relate to Yanky in terms of the character's religiosity and insistence on following all the rules of Satmar Hasidic life. 
"He's the opposite of me in this regard. However, I was able to relate to his emotions — to his chasing the thing he wants most, realizing he made a mistake, figuring out who he is and what love means, and what he wants in life," Amit said.
Amit's mother was born in England, so he grew up speaking English at home. While this helped him at camp, it did not help with the huge amount of Yiddish dialogue he had in "Unorthodox." For the part, he had to study his Yiddish lines intensively with a special consultant who made sure that he had the accent and dialect of the Yiddish spoken by the Satmar Hasidim of Williamsburg down pat. 
However, it was a different matter when it came to the scenes where Amit's character Yanky prayed. "For those, I just mumbled to myself the prayers and songs I learned at Ramah. It was a lifesaver," Amit said.
"Unorthodox," received well by critics and viewed by millions around the world, is definitely Amit's big break. We are sure to see more of him on the screen, so it is doubtful he will have time to return to Ramah Darom. But that doesn't mean that Amit's Ramah experience is behind him. 
He said, "That was the best summer of my life. I will never forget my time at Ramah. It was the happiest I have ever been."