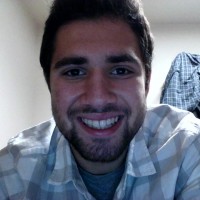 December 25: Multicultural Haifa
For our third day of travel in Israel, we left the holy city of Safed and entered the port city of Haifa.
Haifa is known for its multicultural character, and this really showed in our tour by Beit HaGefen, a non-profit Arab-Jewish cultural, community and youth ceter.  Beit HaGefen promotes understanding and compassion among the various ethnic groups within Israel.
On our tour of Haifa, we walked around and admired street art by many prominent artists. The art is part of "Museum Without Walls," a project started by Beit HaGefen in 1996. It now involves 60 permanent outdoor exhibitions, and much of the art represents the struggles that various groups of people have faced in Israel. I especially liked artworks by Chaya Touma, a Jewish ceramic artist who focused on the experiences of Palestinian citizens of Israel and died in 2009.
I was moved by a design on a wall of a large safety pin surrounding the Mediterranean Sea. The pin was open, symbolizing that Israel is currently unsafe. However, with better communication the pin can be closed and there can be peace and harmony. While the issues in Israel and the Middle East cannot be easily and quickly solved, I think it is important to understand opposing viewpoints and be able to communicate with one another to avoid further conflict.
As a camp counselor it's important to realize that there are going to be plenty of conflicts among campers. Kids may choose to fight rather than talk through their problems. By helping campers understand that other people may have different opinions, we can help them work through various issues they may have with one another. We can teach them the importance of embracing differences within our diverse community.
Sam Weiner, 19, was born in Washington, D.C. and has lived in Deerfield, IL since the age of two. He attended Camp Ramah in Wisconsin as a camper for many years and was a Tikvah counselor there for the past two. He is a student at University of Wisconsin-Madison, where he plans on majoring in chemistry.