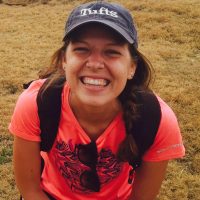 Molly Rothschild | Poconos
Molly Rothschild is from Philadelphia, PA and currently lives in Nyamata, Rwanda. She attended Camp Ramah in the Poconos and her proudest accomplishments include co-captaining a team to 3rd place in Maccabiah.
A day at camp comes with many different noises. You wake up to birds and other animal chatter, and slowly girls' campus would swell with the sound of morning wake-up music as campers roll out of their beds and begin the day. Walking across campus during Shacharit you hear the waves of Modeh Ani coming from different buildings, and later the roar of chatter in the Hadar over cereal and pancakes. The day is filled with shouts on the basketball court, laughter coming from circles of campers in a petzah, and endless answering of questions about all the day might have in store. At Ramah Poconos, the distinct sound that shifted us away from the week, was the crunch of gravel in the Beit Knesset at Kabbalat Shabbat. That noise, underneath the feet of campers, counselors, and visitors all come together for a celebration of Shabbat, always brought me calm, and still brings me the feeling of community.
Today, I live in Rwanda and teach at the Maranyundo Girls' School, in a small town about an hour south of the capital city of Kigali. It is a secondary boarding school, where I teach Literature, English, and Computers to 7th, 8th, and 11th graders. My students are intelligent, poised, silly, and eager. They are eager learners and teachers; they create clubs to discuss leadership and women's empowerment and seek national and international competitions where they can show their skills off to the world. The small campus we share together is filled with constant questions, ideas, and lots of dancing. My day-to-day life is one of teaching, lesson planning, tutoring, and guiding students as they pursue ideas for websites they want to create and dreams for their future.
Before I left for Rwanda, and still today, many people assumed I was headed towards an active war zone or a place of terrible destruction. While it is true that Rwanda has a harrowing past, today's Rwanda is filled with creation and hope and innovation. It is not a perfect place, and my students will be the first to tell you the nuances and debates around the rebuilding of their country. Rwanda, though, is a country that is growing quickly, and trying to bring all of its citizens along in the process of change.
I hear so many noises throughout the day. While classes are in session there are students reciting verb conjugations in unison, videos being played about the movement of tectonic plates, and complex math proofs being proved on the chalkboard. I sit in the library and hear students negotiate trying to check out more books than their allotted amount. During lunch KissFM blasts from the student dining hall. At sport time I hear the basketball team-district champs-run drills. In the evening, during study hall, students cluster together to review their notes and complete their homework assignments. Their nights are concluded with prayer. The noise that makes me feel most at home, however, is the crunch of gravel. Our campus pathways are covered in the tiny pebbles that alert me if a student is running after me to ask a question, approaching my house in the evening, or if classes have let out and there is a migration out into the sunshine for break. In our small town, the crunch of gravel will break through the quiet and remind me of the beautiful minds that I share my life with. And on the days when I feel furthest from my friends, family, and Jewish community, the crunch of the gravel reminds me of Kabbalat Shabbat.