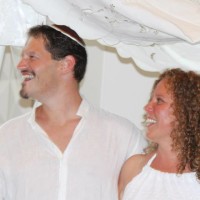 Michael Fish & Devora Yellin Fish
In 1980 we were ten years old and spending our summers at Ramah New England. My first memories of "Fish" are either by tetherball or in the gaga court. He was focused, determined, and out to win. He tells the story that he remembers "Debby Yellin" sitting in the Chadar Ochel and calling over to him "please pass the tuna…FISH", which made him laugh. For the next 5 Summers, we were friends. During the school year we kept in touch with letters and even invited each other to our B'nai Mitzvot. Just to be clear – we never "went together."
Over the next 20 years, we lived our lives – colleges, careers, marriages, kids, pets…. Once in a while Devora (Dev) would hear some news about Fish from his older sister, Deborah Fish, also a Ramah alum.
Fast forward to 2010 and a booming Facebook season, we reconnected briefly and became friends. In September 2012, after we were both divorced, Dev sent out a quick Shana Tova note to friends on Facebook, including Michael. Michael had recently thought about getting back in touch with his old camp friends and wrote back a real message. Messages between Dev and Michael ensued, then phone calls, then more phone calls, then a decision for a reunion. Since that unexpected connection on Rosh Hashanah, we haven't stopped talking, visiting, laughing, and being each others best friends.
Michael didn't think he would remarry until his kids were grown but he could not help himself and asked Dev to marry him in February 2014. We got married in June 2014.
Our beautiful blended family includes Michael's 2 boys and 2 dogs and Dev's 2 girls and 2 dogs. It is a loud, busy, loving, and happy home. Sharing the same Ramah language is a huge bonus and our childhood camp memories of one another keep us connected in a way that enhances our love for one another. We feel so lucky.