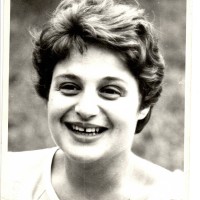 Moshe Zwang & Deborah Riback Zwang
My association with Ramah began when I was twelve years old in 1948 at Ramah in Maine. (You didn't know there was a Ramah in Maine?) It was very primitive: two girls bunks, one for grammar school campers, one for high school. No indoor plumbing, no screens on the windows, and punishment (e.g. for speaking English) was to pick up rocks from the athletic field for a specified number of minutes. Ramah in Maine lasted for two summers, and I loved both of them.
Fast forward to Ramah in Wisconsin, 1958. I had already been a CIT (Ramah Connecticut), a JC (Ramah Poconos), and a counselor and teacher (Ramah Wisconsin), and I wanted a change. I was looking forward to being the lowest assistant in arts and crafts. Moshe Zwang, head of arts and crafts, had spent these past years at Massad, a Hebrew-speaking camp in Pennsylvania. There was an influx of former Massad staff to Ramah Wisconsin in 1958, and Moshe was part of this contingent. I arrived at arts and crafts eager to begin my new calling (campers hadn't come yet). Moshe said I should do an inventory of the supplies we had. "How many awls do we have?" I had to tell him that I didn't know what an "awl" was. "How many reams of paper are there?" Alas, I didn't know what a "ream" was. And so it went, from bad to worse. Nervous and dejected, I returned to my bunk.
I was sharing quarters with two other staff members, Sarah Fisher and Menorah Lebowitz. They too were expats from Massad and also close friends of mine from New York City. I told them what a horrid time I had just had: "Not only is he conceited, but the word 'please' doesn't exist in his vocabulary. I'm not going back there. I'm not spending another minute in that place with him." They knew Moshe from Massad and insisted that "he's really not like that."
Furthermore, they said that before I ask for another job at camp, I had to give this another chance. Just one more day, and if I still hated it after one more day, I could leave. So I went back for one more day…Moshe and I were married in 1961 in New York City. (Of course, Sarah Fisher Gillman and Menorah Lebowitz Rottenberg were at our wedding.)
We spent many years as a married couple at Ramah. Our children, Ariel and Oren, were at Ramah before and from infancy, and became campers and counselors at various Ramah camps. Now, well into adulthood, they continue to maintain ties – – some tenuous, some more tangible – – with Ramah. Our daughter still keeps close several farflung friends who were her childhood bunkmates. Our son recently was able to renew ties with Ramah in an unusual way: A new kind of Ramah camp, more rustic and rugged than regular Ramahs, was being planned to open in Colorado a few years ago. During the planning stage,they needed technical advice about establishing an infirmary and related matters. But where to find a former Ramahnik with Outward Bound experience and medical knowledge? Happily our son was able to match this profile and help them launch. I am told that Ramah in the Rockies is now thriving.
Ramah has been an inspirational and enduring part of all our lives. May it go from strength to strength, continuing to nurture and inspire present and future generations!