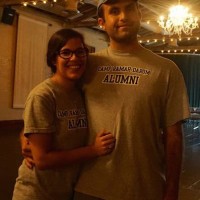 Josh Lerman & Lauren Sadler
Lauren and Josh met in 2000 at Camp Ramah Darom in the North Georgia mountains. Lauren remembers being interested in a goofy, funny, outgoing and charismatic boy that summer. Lauren was too shy to go over and say anything to Josh, yet all of her friends knew she liked him. Two summers went by and they really only talked to each other once – on the last day of camp.  Josh remembers helping Lauren duct tape her broken suitcase. He also remembers Lauren's braces, and a huge smile hiding underneath.

Lauren and Josh communicated online (using the AOL Instant Messenger directory provided by the camp) and began to discover commonalities (they both loved science, Judaism, music, and their respective families). As they began college, (Lauren at Agnes Scott College in Atlanta, GA and Josh at Johns Hopkins University in Baltimore, MD) they kept in contact, talking online and learning more about each other.

The couple re-met in 2007 and then were on staff together. The rest is history.