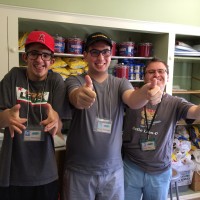 Jesse Blasberg's Reflection
Jesse Blasberg (pictured, far left) is a graduate of the Ezra Vocational Program at Camp Ramah in California, which serves young adults with disabilities (ages 18-23). Participants are staff at camp and receive job training experience in a number of service areas both in and outside of camp. Program goals include preparing young adults for independent living and teaching them employment-related skills.
This is the speech that Jesse delivered at the Ezra graduation ceremony in August 2015.
Hi. My name is Jesse Blasberg. I have been in the Ezra program for five years. I would like to thank my parents, Elana (Naftalin-Kelman), and my coordinators for helping me have the best time at Camp Ramah.
I consider Camp Ramah my home away from home. I enjoy having all of my friends at camp around me and I see Camp Ramah as an escape from the stressfulness of my everyday life during the school year.  Programs we have done in Ezra, such as going out to the bank in Ojai and working in the office, have taught me independence, organization and how to live with other people.  My favorite things about camp are making new friends and banquet, which closes out the summer very well. My favorite things about Ezra are days off, especially going to Universal Studios and the Special Olympics, Café Ezra and staying up late for staff activities.
Camp Ramah has been especially important for me because I'm Jewish and it is important to me to be in such a positive place with so many Jewish people. In the future I plan on getting a job helping people navigate the airport and having my own apartment. I plan on continuing to live independently and I hope to stay in touch with my friends in Ezra staff.
I want my friends in Ezra to always remember to be strong and to never give up on their dreams and passions. I will miss each and every one of you and I wish you all the best and hope to see you all on visitor's day next summer. Have a great rest of your day and thank you for coming to my graduation.
Continuing its ongoing support of Ramah's vocational programs, the Ruderman Family Foundation has granted $150,000 over three years for vocational education initiatives at Ramah California, Canada, New England, and Wisconsin, and to encourage voc ed inclusion programs at other Ramah camps.