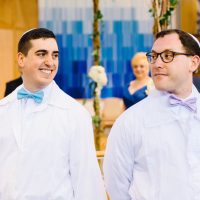 Daniel Olson & Ben Goldberg
For Ramah alumni Daniel Olson and Ben Goldberg, the third time was the charm.
The two met twice in passing over the years (including at Camp Ramah in Wisconsin in the summer of 2010), but it was only when they spotted each other on the OK Cupid dating app in fall 2015 that they began dating. The couple fell in love, and married this past June 3, 2018 at Adath Israel in Merion Station, Pennsylvania.
Daniel and Ben, both 28, live in Port Chester, New York, where Ben is the new rabbi at Congregation Kneses Tifereth Israel. Ben was ordained by JTS last May. Daniel is a doctoral candidate in education and Jewish studies at New York University.
"My dissertation is about disability and inclusion of young adults in the Jewish community," said Daniel, worked for several summers as a counselor in the Tikvah program at Camp Ramah in Wisconsin. He was rosh edah for the Atzmayim program at the camp for three summers, and also helped start the Ezra program at Ramah Galim in Northern California in 2017.
Like his husband, Ben grew up in the Ramah movement. He attended the Ramah Day Camp in Elkins Park for four summers, and Camp Ramah in the Poconos for six summers. He was later on staff at both Poconos and Wisconsin.
"I went to Ramah in one form or another for 15 years," he said proudly.
More than 40 guests at the couple's wedding were Ramah alumni, and Camp Ramah in the Poconos executive director Rabbi Joel Seltzer officiated. It was especially meaningful for Ben and Daniel to have Rabbi Seltzer marry them, as he was not only Ben's rosh edah at camp, but he also served as rabbi of Temple Emanu-El in Providence, RI, where Daniel's parents attend.
"There was a lot of joy and ruach," Daniel said of the wedding. "Lots of singing and dancing. It was a truly heimisch and Jewishly authentic."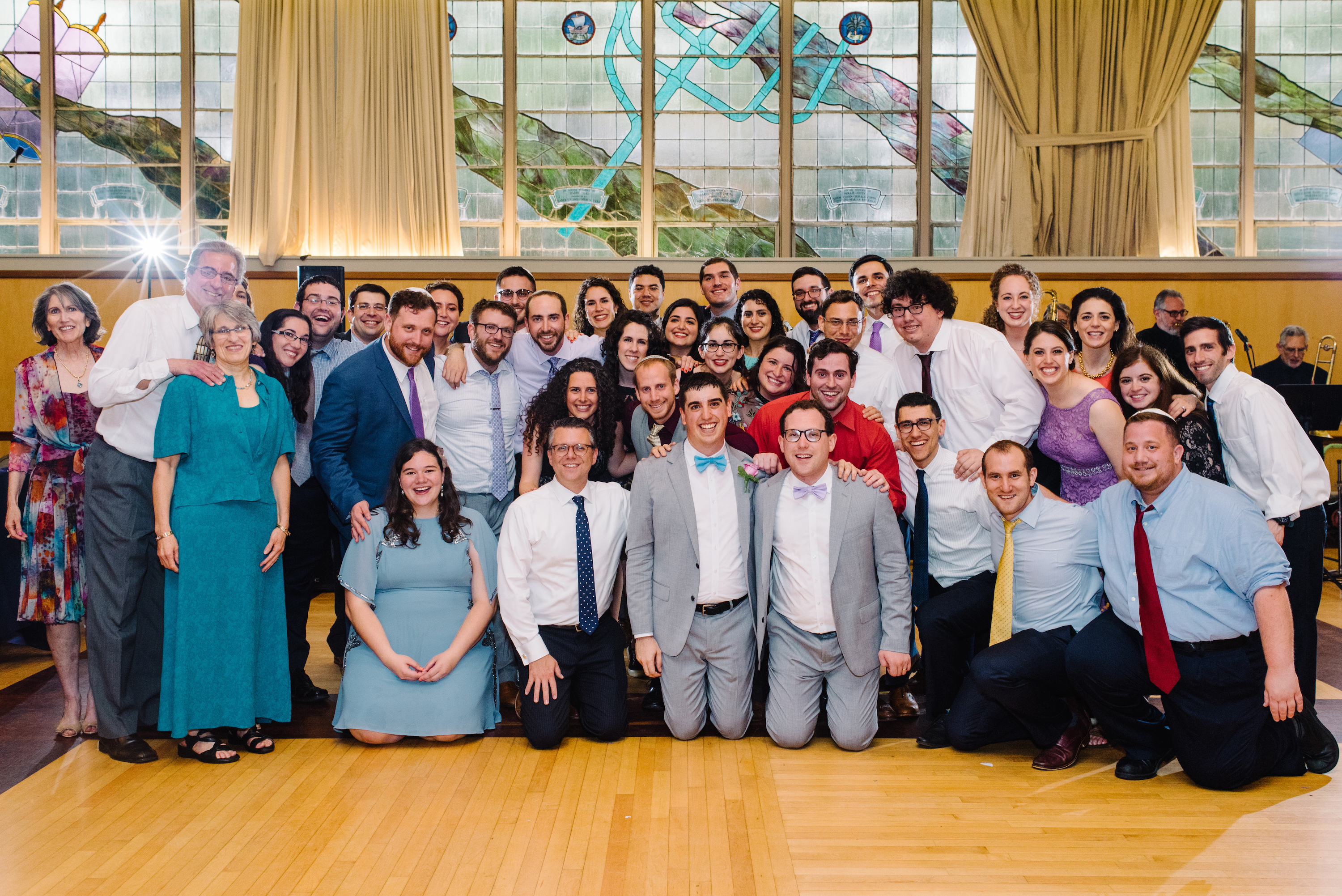 Group photo is of everyone associated with Ramah who attended the wedding (with grooms in center). Photo credit: Kelly Prizel.
Daniel, who hails from St. Paul, MN, and Ben, who grew up in Lower Merion, PA, came out publicly only a month after beginning to date. Until then, they had revealed their sexual orientation only to their families and closest friends. Both of them loved their experiences growing up in the Ramah movement, but pointed to the difficulties they had as young gay men.
"Ramah was a safe place to develop who we were as people and Jews, and to live in community, but it led up to the closet door — and not beyond," Daniel said.
"It was hard to be out at Ramah in the mid-2000's. There were explicit and implicit messages that the ideal Jewish family was two straight parents with four children. It was lovely to see other couples meet at camp, but we had no role models," Ben added.
Despite the limitations, Ben and Daniel both felt that Ramah was a safe space to grow and learn as young Jews. As they embark on married life together, they are pleased that today things are significantly different for LGBTQ Ramah campers and staff.
In photo of the two grooms, Daniel Olson is on left and Ben Goldberg (with glasses) is on right. Photo credit: Kelly Prizel.