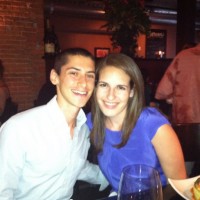 Ilan Buckman & Molly Dehrey Buckman
Molly and Ilan met in the the summer of 2009 as staff members on Ramah Israel Seminar. Molly spent her childhood summers at Ramah California and Ilan spent his summers at Ramah Canada.
They began dating shortly after staffing Seminar and spent the next several years together in a variety of places including Madison, Ann Arbor, Israel, and Philadelphia.
We are very grateful to Ramah for bringing us together.
They were married in Molly's hometown of Los Angeles in June 2013 and were fortunate enough to celebrate with many Ramah friends. Molly and Ilan currently live in the Lakeview neighborhood of Chicago.