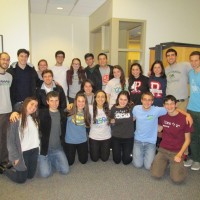 The Camp-Campus Connection: Seizing the Opportunity
Director of the National Ramah Commission, Rabbi Mitchell Cohen, writes about the importance of supporting partnerships between summer camp and campus leaders to increase Jewish engagement across North America in his latest blog for the Times of Israel. As Rabbi Cohen writes:
Although the impact of Jewish camp is clearly felt on campuses, not all Jewish camp counselors and alumni have found their way to being Jewishly active on campus. Young adults who make camp such a vibrant Jewish place are an underutilized resource in terms of efforts to create and ensure robust Jewish life on college campuses. Imagine how much more vibrant Jewish campus life would be if we were successful in engaging more camp alumni at their universities.
Click here to read Rabbi Cohen's full blog post and here to learn more about the Ramah College Network.