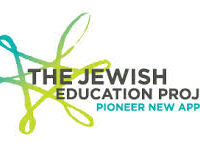 Noah Hichenberg: 2015 Young Pioneers Award Recipient
A massive Mazel Tov to Camp Ramah in New England alumnus Noah Hichenberg for being named one of the The Jewish Education Project's 2015 Young Pioneers Award recipients! Noah currently works as the Director of the Saul and Carole Zabar Nursery School at the JCC of Manhattan. 
A pioneer in the field of early childhood education, Noah has accomplished so much in his two year tenure as Director. As the Jewish Education Project says:
Noah Hichenberg is Director of the Saul and Carole Zabar Nursery School at JCC Manhattan, a Reggio-inspired school oriented around Jewish values. The Reggio Emilia philosophy, based off a town in Italy, is centered on a child's natural inclination to explore and discover, allowing children to construct their own learning in an open environment.  Noah believes in play-based, progressive environments in which children construct knowledge through social interactions.  In his role as Nursery Director, Noah has emphasized peer-to-peer professional development models for teachers and has supported an inclusive school environment for children with special needs.  He is also changing the paradigm of men working in the field, inspiring other young men to get involved in early childhood education.
Click here to read the full release and to learn more about the other winners.