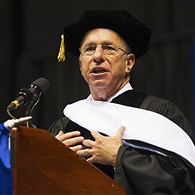 John Ruskay: Finding Yourself at Camp
John Ruskay, an alumnus of Ramah Berkshires, Ramah Nyack and Ramah Poconos, received an honorary degree from Yeshiva University at the commencement on May 22 at the Izod Center in East Rutherford, NJ. While speaking on the subject of "identifying one's calling," Ruskay credited Ramah as one of the formative experiences that shaped both his personal and professional path.
My perspective on what matters was decisively shaped when as a teenager, from a home with wonderful parents who cared about culture and politics but were not involved in Jewish life, I found myself at a Jewish summer camp. It was at Camp Ramah that I first experienced Shabbat. Fifty years later, I can still vividly recall being part of a religious community for the first time; praying each morning, studying texts, on Friday preparing, and then, the piercing quiet and magnificence of Shabbat. Retrospectively, I was experiencing for the first time kedushah, holiness – the power and beauty of Jewish life. Those experiences opened my heart and seared my soul. Those first summers of living in a religious community–reinforced in youth groups, on Israel trips, and then in a more extended community-based Jewish learning and living–shaped my life.
You can read more from Ruskay's commencement speech here.