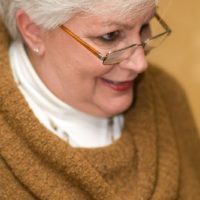 Susan Levine's Reflection
90 Miles, 55 Years and a Rainbow
How does one describe the journey of a life time? Where does one begin?
My personal journey began in 1950 when my parents saw fit to enroll me at Camp Ramah in the Poconos as a 9 year old. Camp Ramah was new and was considered an experiment in living a Jewish life while in a camp where we would be not only learning Hebrew, but as well learning about Israel, only two years old at the time and how we connected to the previous generations of Jews.
What we as children knew was that we were going to have a camping experience where we'd swim, play ball, do arts and crafts, boating, hiking and eating – but all in Hebrew. We were challenged from day one, and those of us in my bunk tried very hard to learn enough Hebrew that we could dream in Hebrew by the end of the summer. I'm sure none of us realized that we were embarking on an adventure that would prove to be pivotal in our lives.
My summers at Ramah Poconos ended with the summer of 1956. By then the girls with whom I'd spent all of those summers knew that by the next year we'd be continuing our lives independent of each other. Some would be going back to Ramah, and others, like me, would be venturing to Israel for the summer. I was one of very few from New York while most were from the Philadelphia area. Those Philly kids remained in contact through the years, while those of us from other areas had to resort to visiting each other during school vacations but ultimately moved into adulthood without much contact.
All through my life my children knew how important the Ramah Poconos experience had been to me, and when Facebook came into existence my daughter suggested that I join to search for my old Ramah Poconos friends. So join I did, and the culmination was a 1950s reunion weekend in 2010.
My 90 mile journey, though short, propelled me back into the incredible world of Camp Ramah Poconos. We gathered at the inn at the University of Pennsylvania on Friday afternoon, July 30. We weren't strangers arriving saying a perfunctory hello, but old friends who'd shared our summers and who were able to pick up conversations as if in the middle of a sentence, not feeling as if we had to start at the beginning again. Dinner and Tefillot followed at the university's Hillel. It was as if we were in the Chadar Ochel at camp. We chatted and reconnected until time for us to return to the hotel.
Saturday morning we went for Tefillot and breakfast after which we spent some of the time, under the leadership of Bart Axelrod, talking about what Ramah meant to us in the old days and how we've lived our lives since using Ramah as the stepping off point. One of our participants said it most clearly: We all left camp at the end of two months and counted off the days until we could return home to Camp Ramah Poconos. As he said those words we all nodded with the realization that that's how it was for all of us. Many people talked about their lives since and though each of us had a different life experience we realized that we were living our lives wrapped up in the magic of Ramah. And, even more so, we were teaching it to our children by example.
Saturday ended with Mincha, Ma'ariv, supper and then Israeli folk dancing well into the night. Some of us sat and watched, wondering where the time had gone that kept us oldsters seated, while others danced until they couldn't any more. Shabbat ended on a high with each of us carrying our memories with us to bed.
Sunday, very early, we gathered at a chartered bus for the 3-hour trip back to Camp Ramah Poconos. I don't know how many people were querulous about how it would feel to cross into the camp, or how many people were simply in the moment and allowing the feelings to come to the surface. When we finally got to the dirt road leading to camp (a much shorter ride on the dirt road than we remembered), we all got a rush of emotion when we saw the sign that read 'B'ruchim Ha-Ba'im l'Machane Ramah'.
We were greeted by the director at the time, Rabbi Todd Zeff, and members of his staff and each of us was given a wrist band to wear as visitors. As we walked up the campus clusters of children waved at us, clapped when they saw us and were eager to interact with us.
Much of the physical camp had changed. Old buildings had either fallen down or burned down, additional bunks had been added, study huts had been added and even a gazebo dedicated to the couples who had met at camp and subsequently had married.
I realized that I was older than my parents were when they visited me in camp. Wow had time flown by. We toured the campus and were given the option of either hearing a lecture by the resident 'moomcheh' on the archeology of the origins of the synagogue or creating a 'work of art' in the Omanut area. I chose the lecture and was rewarded with new and exciting information about what we're learning about our ancestors. We visited the lakefront and saw a shiny, new pool and met a wonderful swimming director who, while teaching the campers swimming skills, she was adding to their knowledge of Hebrew.
And then we went to the Chadar Ochel for lunch. As we did in the old days, the whole camp descended on this huge Chadar, sat at long tables and as we walked in they all started applauding our arrival. After Birkat HaMazon, they introduced a musical interlude and the campers got up to do Israeli folk dancing right in the middle of the Chadar. The music was so inviting and infectious that I stood up and ran for the circle of campers, joining them with gusto. The dancing went on for some time, and then one of the staff brought out a long silk banner with the words of our Hymn to Ramah, the song we sang so many years ago. The music started, and I was overcome with emotion and found myself crying while trying to sing those beautiful words. It was a moment in time that erased the years and brought us all together as a community sharing great love and respect for our camp.
The next activity was with the oldest edah in the Beit Am Gadol. After Mincha, we were divided into small groups of oldsters and youngsters to have one on one conversation about the camp experience. The campers asked us questions about how it was when we were campers and how Ramah impacted our lives. We, in turn, asked them questions about their experiences today.
This small group had more in common than we could believe. We were nostalgic about our memories, and some of us wept when we spoke. The campers were transfixed and responded with their commitment to Ramah and the experiences they were having and the depth of their response to what Ramah meant to them. This was probably one of the more exquisite memories I'll carry with me for the rest of my life. What had been an experiment in the 1950s has borne the fruit of the beauty of the message of Camp Ramah and has passed down the generations into our children and grandchildren. Even at their young age they know what this experience means and they are ready to go out into this new world of theirs bringing the message of Judaism, the Ramah experience and their love of Hebrew, their heritage and Israel along with them.
The rainbow appeared about an hour after we left the camp, and for about 20 minutes I had the feeling that God had seen to it that from the beginning of the rainbow (1950) to the end of the rainbow (that day) we were united, no matter what the age of the camper in all of us.