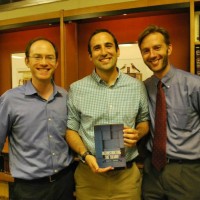 Joshua Kulp and Jason Rogoff: Reconstructing the Talmud
Joshua Kulp and Jason Rogoff, long time Ramah alumni and currently the scholars-in-residence at Camp Ramah in New England and Camp Ramah in the Berkshires, respectively, have published a unique introduction to the modern study of Talmud. The book is called Reconstructing the Talmud, and is available through Mechon Hadar. Anyone interested in getting a different perspective on Talmud and on how its literature and laws developed throughout history will find great benefit in this book.
Josh Kulp shared with us the following reflection about his experience growing up at Ramah and its impact on his Jewish learning.
I grew up at Ramah in the Poconos (1982-1992), spent two wonderful summers at Canada (1993-1994) and now I'm the scholar-in-residence at New England, watching my four children grow up there (2006-2014). The connection between my life's work at the Conservative Yeshiva in Jerusalem as a Talmud teacher, the books that I have written (Reconstructing the Talmud and the Schechter Haggadah, the on-line learning I teach (Mishnah Yomit and Daf Shevui) and my time at Ramah is extremely deep. All of my work has been focused on making difficult subjects and methodologies interesting and accessible for Jews who are interested in Jewish learning, but do not have professional training. Over the past ten years in New England, I have spent many hours discussing Jewish tradition, Talmud, prayer, halakhah and aggadah with hundreds of curious campers, counselors and adult staff. Encountering such an audience has forced me to clarify my thoughts and to make my presentations more precise and engaging. As we go on, Jason and I look to raise the level of learning both in camp and among camp alumni throughout their lives. And of course, I'd be happy to see more Ramah alumni visiting us and learning with us in Jerusalem at the Conservative Yeshiva.
Purchase a copy here and bring it to New England or the Berkshires and the authors will be glad to sign your copy!